Before I write about this dish, I feel I have to come clean about its origins. GL devised the recipe and indeed cooked it for the photo above so I cannot claim any credit for it. However, I have a feeling it will become a staple as it worked so beautifully on every level. The fish, protected by the herbs and potatoes stays wonderfully moist, the herby layer gives the fish a fresh lift and the potatoes provide a crunchy texture to contrast with the softness underneath.
This post is making its way over to one of my favourite challenges,
Herbs on Saturday
, created and hosted by Karen from the wonderful Lavender and Lovage
http://www.lavenderandlovage.com/2012/09/herbs-on-saturday-september-challenge-win-a-copy-of-herbs-river-cottage-handbook.html
.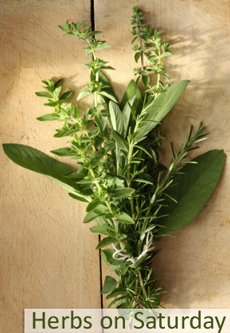 RECIPE - serves 2
2 trout fillets
a large handful of fresh parsley
1 clove garlic
2 teaspoons capers
4 medium sized, waxy potatoes
extra-virgin olive oil
Pre-heat the oven to 180 °C .

Peel the potatoes and parboil for about 10 minutes. Allow to cool slightly (so you don't burn your
hands) before slicing thinly.
While the potatoes are cooking, make the herb mixture. You do this by whizzing the parsley, garlic and capers in a blender with about a tablespoon of olive oil until smooth. Season with a generous quantity of freshly-ground black pepper and add salt to taste.
Drizzle some oil in a roasting dish so that the fish doesn't stick - GL lined it with foil as well. Place the fillets on top, spread with the herb mixture and top with the thinly sliced potatoes. Drizzle liberally with olive oil and place in the oven for about 25 minutes. When done, the fish should be cooked but still moist and the potatoes should be crisp and golden brown.