Every time I look in the fridge, I always seem to find egg whites that need using up. They seem to stare reproachfully at me from their cling-film covered bowl. I know that macarons are a great way of using them up and I do make these from time to time but to be honest, I find them a bit of a faff, what with having to use a piping bag and all that. The other common option is to make meringue but as I'm the only one at home who really likes meringue, it falls to me to eat them all, not the best idea when they're basically pure sugar mixed with egg white.
These then, are what I came up with in my latest attempt at not wasting egg whites. The inspiration comes from an Ottolenghi recipe, and although I've called them amaretti, as he does, they're not really like classic Italian ones. These are sweet, soft and moist, with a pronounced almond flavour, perfect for serving with coffee after dinner or as a pick-me-up for that afternoon slump.
I'm sending these to Treat Petite hosted alternately by Stuart from
Cakeyboi
and Kat (this month's host) from the
Baking Explorer
.
As I'm using up egg whites in this recipe, I'm also sending it over to the fantastic
No Waste Food Challenge
hosted by
Elizabeth's Kitchen Diary
. This is a great challenge and I'm so glad to see it back.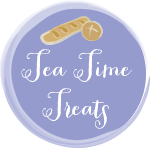 The theme is
eggs
, so I'm also taking part in this month's
Tea Time Treats
,
hosted alternate months by Karen from
Lavender and Lovage
,
Manjiri from Travels for Taste
(this month's host) and
Jo from Jo's Kitchen
.
RECIPE
100g caster sugar
180g ground almonds
grated zest of one orange
pinch of salt
2 drops almond extract
2 egg whites
2 teaspoons honey
50g dried apricots, chopped fairly small
icing sugar
a large baking tray lined with baking parchment
Pre-heat the oven to 170°C
Put the sugar, almonds, orange zest, salt and almond extract in a large bowl and mix well with your fingers, making sure that the almond extract and orange zest are evenly distributed.
Add the chopped apricots.
Beat the egg whites (preferably with an electric whisk) and honey until they reach a soft meringue consistency. Then gently fold this into the almond and sugar mixture. What you should have is a very sticky, soft paste.
Form the mixture into rough shapes, you should get about 20 out of this recipe. They're meant to look irregular and rustic so don't spend time shaping them into perfect little balls. Roll them in icing sugar and place them on the lined baking tray.
Bake for about 12-14 minutes, until very lightly golden on the outside but still pale inside.
Leave to cool completely, then store in a sealed jar. They keep very well for about 5 days.