Aubergines prepared in this way are incredibly versatile. They can be eaten on their own, with just a chunk of cheese and some good bread or they can accompany a whole variety of meat and fish dishes; my current obsession is aubergines with lamb, particularly if the lamb has been simply cooked on the barbecue - the flavours work so well together. I sometimes use them as a sandwich filler too - try a few slices on a crusty roll or ciabatta, along with some buffalo mozzarella. Another point in their favour is that they can be prepared in advance - indeed, the dish tastes even better the next day because the aubergines have had time to absorb the subtle aromas of the herbs.
The recipe below is how I've been making them recently (my mint has been getting out of hand and this is a great way to use it) but you can vary the herbs as you wish, perhaps changing them to suit the dish that they will be served with. The quantities are also quite approximate here because again, it's a matter of personal preference.
The generous quantities of herbs used in this dish mean that it can be sent to one of my favourite challenges,
Herbs on Saturday
, thought up and hosted by Karen from the wonderful Lavender and Lovage
http://www.lavenderandlovage.com/herbs-on-saturday
.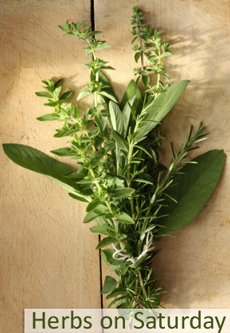 As aubergines are at their best in August, I'm also sending this to Ren at Fabulicious Food for her
Simple and In Season
challenge, which is always so inspiring.
RECIPE
2 aubergines
a handful of fresh basil
a handful of fresh mint
1 clove garlic
balsamic vinegar
extra virgin olive oil
Slice the aubergines fairly thinly (about half a centimetre). Heat a ridged grill pan and cook the aubergines in batches, until quite soft and nicely striped on both sides.
Remove the slices to a wide dish and dress while still warm with olive oil and balsamic vinegar. Roughly chop the herbs and garlic and add, along with some sea salt and freshly ground black pepper, to the aubergine slices, mixing all the ingredients gently together with your hands.
Cover with cling and leave in a cool place for a couple of hours or up to day.
When you want to serve them, arrange the slices on a serving plate and sprinkle over a few more fresh herbs.