We celebrate love early here in Wales. Today, the 25th January, is the day of Santes Dwynwen, the Welsh saint of love. The story goes that Dwynwen, the beautiful daughter of Brychan Brycheiniog, met and fell madly in love with a man called Maelon, and he reciprocated her feelings. She asked her father if she could marry Maelon, but Brychan disliked Maelon and refused to give his permission. Maelon begged, as did Dwynwen, but Brychan would not relent and Maelon was forced to leave. Dwynwen was so upset that she ran into the forest. There, she met an angel who granted her the position of the Saint of Love. She spent the rest of her days as a nun, on a small island just off the coast of Anglesey, where she built a church and dedicated herself to God. The remains of the church can still be seen on Llanddwyn (meaning the church of St. Dwynwen) Island, and it's just the place for a romantic walk on the beach.
I'm feeling rather restrained today so I haven't done anything heart-shaped. Instead, I made these little bresaola spirals to enjoy with a romantic glass of champagne before dinner. The bresaola is from Valtellina in Italy but the local Welsh goat's cheese used in the filling ensures St. Dwynwen is not forgotten.
Dydd Santes Dwynwen Hapus - I wish you all a very happy and romantic St. Dwynwen's day!
The parsley in this dish means that it can be sent to one of my favourite challenges,
Herbs on Saturday
, created by Karen from the inspirational
Lavender and Lovage
and hosted this month by Vanesther at
Bangers and Mash
.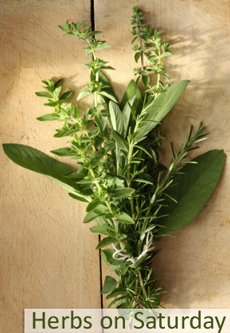 RECIPE - makes about 10 mini spirals
90g-100g bresaola, very thinly sliced
70g soft goat's cheese
2 teaspoons Greek yoghurt or sour cream
a small handful rocket, roughly chopped
a tablespoon fresh parsley, roughly chopped
juice of half a lemon
extra virgin olive oil
salt and pepper
On a large sheet of clingfilm, start by laying out the bresaola slices, just overlapping, to form a rectangular shape, mine was about 30cm x 20cm, roughly the size of A4. Press down firmly where the slices overlap - you want them to become almost a single sheet.
Put the goat's cheese in a bowl and mix with a spoon or a fork until soft. Add the other ingredients (except the olive oil) and mix well. Finally, add just enough olive oil to make the mixture a spreadable consistency, probably just a teaspoon or two. Season to taste.
Spread the cheese mixture carefully over the slices of bresaola, covering it all with a thin layer. Then, starting at the shorter end, roll the bresaola so that you end up with a sausage shape. Wrap it in clingfilm and refrigerate for a couple of hours.
About 15 mins before you want your aperitif, simply remove the roll from the fridge, unwrap it from the clingfilm and cut into 1cm slices, using a very sharp knife. Arrange on a plate and leave for about 10 mins (just to take the fridge chill off them a bit) before serving with drinks.