I sometimes get quite panicky about what I would say in one of those 'What's your favourite...?' kind of interviews. I mean, take films; easy, I think, my favourite film is The Philadelphia Story (Katharine Hepburn and Cary Grant). But then what about Mediterraneo? And Bullitt? To Kill a Mockingbird? Cinema Paradiso? I could go on.
I don't fare much better, in fact much worse, with books - how on earth can you narrow that one down? One Hundred Years of Solitude, Small Island, Il Gattopardo, Pride and Prejudice, Mapp and Lucia...the list really is endless...oh, and I've missed out Dickens and childhood favourites (Anne of Green Gables and Little Women of course). I think I could manage better if the interviewer asked me very specific questions: What was the best book you read in the first six months of 2012? Who is your favourite author of contemporary fiction? Which is your favourite town in Italy? (Major Pettigrew's Last Stand; Anne Tyler; Siena).
When the imaginary interview then moves onto the topic of food, well, all hell breaks loose. I would have absolutely no chance of answering a question such as 'What is your favourite dish?' I can't even pick a general food type, where do I start? Cheese, bread, cakes, chocolate...and what about the meaty delights of a perfectly roast chicken or a just seared sirloin? GL maintains that his all-time favourite dish is spaghetti with clams and fresh tomatoes but I see how his face lights up in front of a large hunk of roast meat, committed carnivore that he is.
I'll keep working on my answer to the favourite dish question. Maybe if I draw up a list of my top fifty dishes, I can then just jab one with a pin when the question is asked. One thing is certain - fish would feature heavily. I'll start the list with this courgette-topped sea bass. Prepared in minutes, it's flavoured with lemon zest, garlic and parsley under its crust of courgette and it's wonderful. One of my favourite dishes actually - did I happen to mention that?
This post is making its way over to one of my favourite challenges,
Herbs on Saturday
,
created by Karen from the wonderful
Lavender and Lovage
and hosted this month by
London Busy Body
.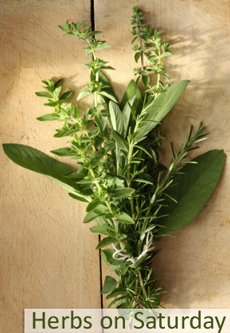 I'm also sending it to Javelin Warrior's wonderful weekly challenge which encourages everyone to cook from scratch,
Made with Love Mondays
.
RECIPE
4 sea bass fillets
1 courgette
zest of one lemon
1 clove garlic
handful fresh parsley, roughly chopped
salt and pepper
extra virgin olive oil
Pre-heat the oven to 180 °C .
Start by thinly slicing the garlic clove and courgette. You can do this by hand or, my preference, with a mandolin. Season the fish fillets with salt and pepper, drizzle with olive oil, sprinkle over the parsley and lemon zest and lay a few of the garlic slices on each fillet. Top the fillets with the courgette slices and drizzle again with olive oil.
Place the fillets on a lightly greased baking tray and put in the oven for about 15-20 minutes, depending on the thickness of the fish fillets. The courgette slices should be just turning golden brown and the fish still moist underneath.