It may sound unusual to use ricotta in a cake batter in this way but it really works and goes so well with the chocolate. The texture of the cake is completely different from a normal sponge cake base; the ricotta makes it denser certainly but don't be alarmed - it's not at all heavy and stays beautifully moist. It cuts and travels well which makes it perfect for summer picnics or to take on a walk as a well-deserved snack. It also lasts for a couple of days so you can make it the day before without compromising flavour or freshness.
This cake is my submission to Choclette's long-running
We Should Cocoa
challenge, which is being hosted this month by
Choclette herself
. The theme is Anything Goes. You can find details of the challenge and past entries over at Choclette's fantastic, relatively new home

Tin and Thyme

where she blogs not only about chocolate but also Cornish life and food.
This also fits in neatly with Karen's
Tea Time Treats
challenge, over at
Lavender and Lovage
. The theme is Summer Holiday Baking and as I mentioned before, the portability of this cake makes it ideal for a picnic or indeed a camping trip, both staples of a summer holiday. You can read co-host Janie's wonderful July line-up over at
Hedgecombers
.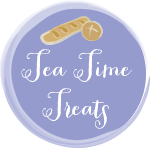 Finally, I'm sending this over to Jibber Jabber's
Love Cake
challenge as the theme this month is Pack me a Picnic.
RECIPE
250g ricotta
100g caster sugar
3 eggs
250g self raising flour
80g butter, melted and cooled slightly
120g dark chocolate, chopped into small chunks
1 teaspoon vanilla extract
Pre-heat the oven to 180°C
Grease and flour a round cake tin, 22cm diameter
Start by creaming together the ricotta and the sugar. Add the eggs one by one, mixing well after each addition.
Remove one tablespoon of flour and sieve the rest. Fold the sieved flour gently in to the ricotta mixture. Beat in the cooled, melted butter and the vanilla extract. Finally, add the reserved tablespoon of flour to the chopped chocolate (this stops it from sinking to the bottom of the cake) and mix roughly before folding into the batter.
Spoon the mixture into the prepared tin, smoothing the top.
Put in the oven and bake for about 30-35 mins or until the cake is cooked and a cake tester comes out clean.
Remove from the oven and leave to cool in the tin for about 20 mins before carefully turning out and leaving to cool on a wire rack.