I love cooking with butternut squash (as long as I don't have to peel it). The intense colour when you cut it in half always comes as a surprise and magic occurs with the heat of the oven, transforming the hard, unyielding flesh into soft, sticky sweetness. Even its name sounds delicious.
This soup is perfect for November - the vibrant orange adds colour to a grey day, the squash makes the soup satisfyingly filling but still silkily smooth, the herbs give freshness and the chilli really warms you up from the inside.
As squash is still very much in season, I'm sending this over to Ren at
Fabulicious

Food
for her wonderfully inspiring
Simple and In Season
challenge.
I'm also sending this over to Javelin Warrior's weekly challenge,
Made with Love Mondays
which encourages us all to cook from scratch.
The herbs used in this dish mean that it can be sent to another of my favourite challenges,
Herbs on Saturday
, created by Karen from the consistently wonderful
Lavender and Lovage
and hosted this month by Jen at
Blue Kitchen Bakes
.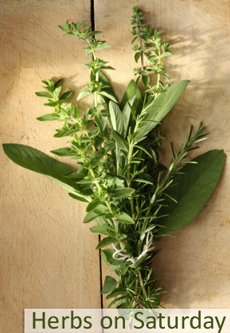 RECIPE - serves 4
1 butternut squash
1 onion
1 clove garlic
2 tablespoons olive oil
40g butter
dried chilli flakes, (a pinch or two, depending on how hot you want it)
2 sage leaves, finely chopped
900ml vegetable (or chicken stock)
a handful of fresh coriander
Pre-heat the oven to 220°C
Cut the unpeeled butternut squash in half, from top to bottom and deseed it. Make a few cuts in the flesh with a knife and drizzle with some olive oil. Place on a roasting tray and roast for about 40 mins until soft.
In the meantime, finely chop the onion and garlic. Heat the oil and butter in a saucepan and soften the onion and garlic slowly over a gentle heat. It's important to do this slowly as you really don't want the onion and garlic to burn or even colour. After about 20 mins the onion should be soft and translucent.
When the squash is cool enough to handle, scoop out the flesh (discarding the skin) and add it to the softened onions and garlic, together with the sage, chilli and stock. Bring it to the boil and cook for a few minutes before removing from the heat.
With a stick blender, blitz until smooth and check the seasoning. It will probably need both salt and pepper, depending on the stock you have used and personal taste.
Put the soup back on the hob to heat up thoroughly. Serve with generous quantities of fresh coriander and a drizzle of crème fraîche.