I dream of having a big kitchen, the kind where people can sit and chat, read the newspaper with a cup of coffee, lend a hand with the cooking without getting in the way... My kitchen is small. I'm not complaining (although it may sound like it) because it's perfectly formed and fulfils its function very well. It's just that when I have friends and family over for dinner I have two choices - I can either prepare everything in advance which allows me to take part in the conversation happening in the dining room or I can cook there and then which means that I miss out on everything else that's going on.
Needless to say, I usually prefer the first option, that of preparing most things in advance, thus maximising time spent with my guests. This chicken dish (the inspiration for which comes from an old Good Food magazine) fits the bill on many counts. Firstly, it can all be prepared ahead of time and simply put in the oven when needed. Secondly, the chicken is cooked on a bed of courgettes and tomatoes which means that you can dispense with a separate vegetable, leaving you with less to do in the kitchen and minimising the washing up. This method of cooking also ensures that the chicken stays nice and moist. Finally, and most importantly, it's delicious, with a great balance of flavours - crisp saltiness from the pancetta, creaminess from the cheese and mild sweetness from the vegetables.
The thyme and oregano used in this dish mean that it can be sent to one of my favourite challenges,
Herbs on Saturday
, created by Karen from the inspirational
Lavender and Lovage
and hosted this month by Jen at
Blue Kitchen Bakes
.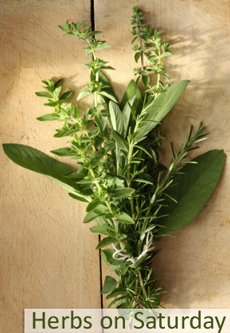 I'm also sending this over to Javelin Warrior's weekly challenge,
Made with Love Mondays
which encourages us all to cook from scratch and provides a fascinating, eclectic mix of recipes to try every week.
RECIPE - serves two
2 skinless, boneless chicken breasts
100g firm goat's cheese
a few sprigs of fresh thyme
1 teaspoon dried oregano
6 slices of pancetta (or thinly sliced streaky bacon)
2 courgettes, thinly sliced lengthways
1-2 tbsp extra virgin olive oil, plus extra for drizzling
250g tomatoes, any kind, thinly sliced
Pre-heat oven to 190°C.
Slice the chicken breasts almost in half from one long side and open them out like a book. Cover with cling film and bash with a rolling pin to flatten them. Season on all sides. Put half the goat's cheese on each piece of chicken and sprinkle with some of the thyme leaves and oregano. Roll the chicken up to enclose the cheese, then wrap each one snugly in three slices of pancetta.
Lightly oil a shallow gratin dish, then arrange overlapping rows of courgettes and tomatoes over the base. Drizzle with olive oil and sprinkle with salt, pepper and thyme sprigs. Place the chicken breasts on top.
Bake for 45 mins until the pancetta is crisp and golden and the courgettes are tender. Cut in half diagonally if you so wish and serve with new potatoes or good bread.