Although they may resemble gnocchi, these little dumplings are in fact quite different as they don't contain potatoes. This makes them light and delicious. Originally from Tuscany, they are basically the filling of classic ravioli but without the outer pasta layer hence the name Gnudi which in Tuscan dialect means 'nude'. You don't often find them in restaurants as they don't keep well once they're made but they're easy enough to prepare at home and well worth it. They just need delicate handling - they're so light they're practically little clouds.
The classic version contains only spinach but I like to add fresh parsley to the mixture as well, to give the flavour a bit of a lift. You could add other herbs too - I like the idea of fresh mint or maybe basil.
This post is making its way over to one of my favourite challenges,
Herbs on Saturday
,
soon to become Cooking with Herbs
and sporting a lovely new badge to boot! The challenge is created and hosted by Karen from the wonderful
Lavender and Lovage
.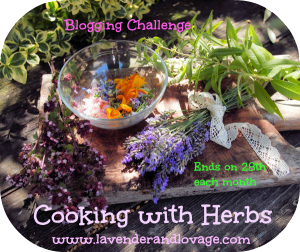 I'm also sending it to Javelin Warrior's wonderful weekly challenge which encourages everyone to cook from scratch,
Made with Love Mondays
.
RECIPE - serves 4

450 g fresh spinach
50g fresh parsley, roughly chopped
500 g ricotta cheese
2 eggs, beaten
70 g flour
100 g Parmesan cheese, freshly grated
salt
nutmeg
pepper
6 sage leaves
50 g butter
Drain the ricotta of excess liquid by leaving in a colander for a few hours or overnight in the fridge.
Wash the spinach, drain briefly and put in a saucepan just as it is to wilt, turning it over from time to time so that the leaves on top cook as well as the leaves on the bottom. Allow to cool slightly then chop roughly.
Meanwhile, mix the ricotta cheese with the flour, eggs and parmesan, stir well and add a pinch of nutmeg, and season well with salt and pepper. Stir and add the chopped spinach and fresh parsley. Mix everything together thoroughly.
Bring a large pot of salted water to the boil.
Shape the mixture into oval dumplings, slightly smaller than golf balls. Place gently into the boiling salted water. They are ready when they float to the surface, it usually only takes a few minutes.
While the gnudi are cooking, melt the butter with the sage leaves.
Remove the gnudi from the water with a slotted spoon, place in a serving dish and pour over the melted butter. Serve with more freshly grated Parmesan.