I never seem to learn. Once again, I have succumbed to the temptation to order tuna in a restaurant, drawn in by the enticing descriptions - pan-seared, lemon-scented, herb-encrusted...I've tried them all and they are invariably disappointing. There's nothing wrong with the sauces and salsas, the problem lies with the tuna - it's always overcooked, giving it the consistency of particularly dry cardboard and turning even the finest grade tuna into something that looks and tastes as if it has just come out of a tin. I mean, I'm not disparaging tinned tuna, it certainly has its place, but it definitely cannot be compared to the fresh stuff. After every delusion I vow never to repeat my mistake, only to fall off the wagon again.
The latest let-down left me longing for a decent piece of tuna, seared on the outside for seconds rather than minutes and still juicy and pink within. I liked the idea that I'd seen at the restaurant which was tuna served with a salsa verde. However, I wanted something slightly less aggressive, just some fragrant herbs, a few capers, a squeeze of lemon juice with some of the zest thrown in for good measure, with just enough olive oil to combine everything.
This post is making its way over to the newly named
Cooking with Herbs
(but it's still our old favourite Herbs on Saturday). The challenge is created and hosted by Karen from the wonderful
Lavender and Lovage
.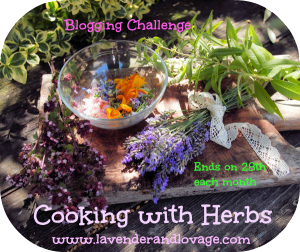 I'm also sending it to Javelin Warrior's wonderful weekly challenge which encourages everyone to cook from scratch,
Made with Love Mondays.
RECIPE
2 tuna steaks
extra virgin olive oil
For the herb vinaigrette
150ml extra virgin olive oil
handful fresh flatleaf parsley
handful fresh basil
1-2 tbsp capers
juice and zest of half a lemon
For the warm vinaigrette, start by roughly chopping the herbs. Put the olive oil into a small saucepan, adding the herbs, capers and lemon zest (though not the lemon juice at this point). Warm everything very gently over a low heat.
In the meantime, heat a heavy-based griddle pan until hot. Season the tuna steaks with some sea salt and rub with the olive oil. When the pan is very hot, put the tuna steaks in and sear for just one minute each side. It should still be pink inside.
Just before serving, stir the lemon juice into the sauce, season to taste with salt and pepper and spoon over the tuna.
In the photo you can see that I served this with some courgettes which I lightly sauteed in olive oil, adding a squeeze of lemon juice at the end.