I suppose I have to face the fact that it's over. Linens and sandals have been relegated to the back of the wardrobe, the tan has faded, suitcases are once again gathering dust in the attic and memories of lazy, sun-filled lunches, sipping rosé, overlooking a startlingly blue Mediterranean have been firmly pushed to the back of my mind. Summer has gone and it doesn't look as though it will be back any time soon. Of course, I love autumn so my mourning won't last long, it's just that it seems to have arrived very quickly, leaving me feeling as though I haven't had a chance to properly say goodbye to summer.
This dish then is my farewell to summertime. It works well as a light lunch or as a starter. The brightly-hued, sweet-tasting peppers seem to retain the warmth of the sun that is sadly lacking at the moment and are a perfect foil for the salty halloumi; the citrussy dressing, fresh with herbs, complements both ingredients perfectly.
Go on, put those flip-flops away but make sure you've got this ready to eat afterwards. It would even go well with a glass of rosé or two...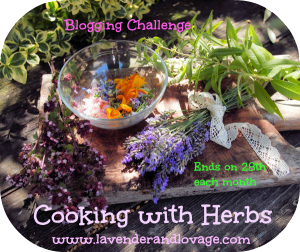 I'm also sending it to Javelin Warrior's wonderful weekly challenge which encourages everyone to cook from scratch,
Made with Love Mondays.
RECIPE - serves 2 as a light lunch or starter
1 x 250g pack of halloumi
1 red pepper
1 yellow pepper
For the herb dressing
150ml extra virgin olive oil
a large handful of fresh flatleaf parsley
1 teaspoon dried oregano
1 tbsp capers, drained
juice and zest of half a lemon
The dish works best when the peppers and dressing are at room temperature and the halloumi is hot so you can prepare the peppers and dressing in advance and finish the dish by grilling the halloumi just before eating.
Start by roasting the peppers. Preheat the oven to its maximum temperature and put the peppers in whole, on a greased baking tray. Leave for about 25 mins, turning occasionally. The skins should be blackened and starting to peel away. Remove from the oven and put them in a plastic bag to cool before peeling them and eliminating the seeds and core. Slice each pepper lengthways into quarters or thirds.
For the dressing, start by roughly chopping the parsley and capers. Add to the olive oil along with the oregano, the lemon zest and the lemon juice. Shake (or whisk) everything together well.
When you're ready to eat, heat a griddle pan until very hot. D

rain the halloumi and cut into about 8 slices, brush each slice with a little olive oil and griddle for about 1-2 mins each side, until the cheese is lightly charred and beginning to soften.
Arrange the peppers and halloumi on the plates (making sure each plate has both red and yellow peppers) and spoon over the dressing.
Serve with lots of crusty bread.